1

Mullong Troll Fighter Level 13
• 297 HP
• Melee
• Aggressive
• Drops #6 and 3-10 Gold
2

Mullong Troll Hunter Level 13
• 297 HP
• Ranged
• Aggressive
• Drops #6 and 3-10 Gold
1

Mullong Troll Fighter Level 13
• 297 HP
• Melee
• Aggressive
• Drops #6 and 3-10 Gold
2

Mullong Troll Hunter Level 13
• 297 HP
• Ranged
• Aggressive
• Drops #6 and 3-10 Gold
1

Mullong Troll Fighter Level 13
• 297 HP
• Melee
• Aggressive
• Drops #6 and 3-10 Gold
2

Mullong Troll Hunter Level 13
• 297 HP
• Ranged
• Aggressive
• Drops #6 and 3-10 Gold
1

Mullong Troll Fighter Level 13
• 297 HP
• Melee
• Aggressive
• Drops #6 and 3-10 Gold
2

Mullong Troll Hunter Level 13
• 297 HP
• Ranged
• Aggressive
• Drops #6 and 3-10 Gold
1

Mullong Troll Fighter Level 13
• 297 HP
• Melee
• Aggressive
• Drops #6 and 3-10 Gold
2

Mullong Troll Hunter Level 13
• 297 HP
• Ranged
• Aggressive
• Drops #6 and 3-10 Gold
2

Mullong Troll Hunter Level 13
• 297 HP
• Ranged
• Aggressive
• Drops #6 and 3-10 Gold
1

Mullong Troll Fighter Level 13
• 297 HP
• Melee
• Aggressive
• Drops #6 and 3-10 Gold
2

Mullong Troll Hunter Level 13
• 297 HP
• Ranged
• Aggressive
• Drops #6 and 3-10 Gold
1

Mullong Troll Fighter Level 13
• 297 HP
• Melee
• Aggressive
• Drops #6 and 3-10 Gold
1

Mullong Troll Fighter Level 13
• 297 HP
• Melee
• Aggressive
• Drops #6 and 3-10 Gold
2

Mullong Troll Hunter Level 13
• 297 HP
• Ranged
• Aggressive
• Drops #6 and 3-10 Gold
1

Mullong Troll Fighter Level 13
• 297 HP
• Melee
• Aggressive
• Drops #6 and 3-10 Gold
2

Mullong Troll Hunter Level 13
• 297 HP
• Ranged
• Aggressive
• Drops #6 and 3-10 Gold
1

Mullong Troll Fighter Level 13
• 297 HP
• Melee
• Aggressive
• Drops #6 and 3-10 Gold
2

Mullong Troll Hunter Level 13
• 297 HP
• Ranged
• Aggressive
• Drops #6 and 3-10 Gold
1

Mullong Troll Fighter Level 13
• 297 HP
• Melee
• Aggressive
• Drops #6 and 3-10 Gold
2

Mullong Troll Hunter Level 13
• 297 HP
• Ranged
• Aggressive
• Drops #6 and 3-10 Gold
1

Mullong Troll Fighter Level 13
• 297 HP
• Melee
• Aggressive
• Drops #6 and 3-10 Gold
3

Mohanlal the Butcher Level 13
• 580 HP
• Ranged
• Aggressive
• Miniboss
• Drops #6 and 3-10 Gold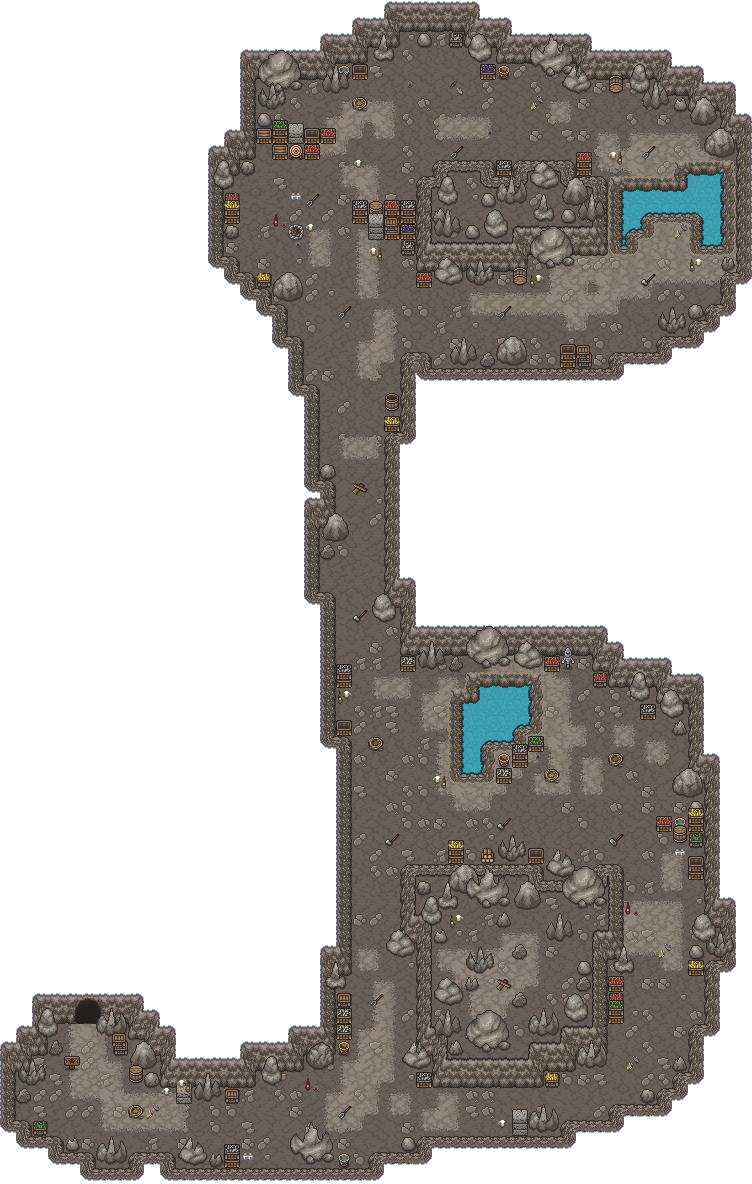 It's a cave located on the on the western side of Granite Mountains. There are no NPCs here except for the Enemies.
Resources
Tin Vein x6
Irruvil Bush x0
Alder Tree x0
Locations

Enemies
Mullong Troll Fighter x12
Mullong Troll Hunter x11
Mohanlal the Butcher
Community content is available under
CC-BY-SA
unless otherwise noted.