1

Furious Boar Level 3
• 42 HP
• Melee
• Aggressive
• Drops #2 and 1-4 Gold
1

Furious Boar Level 3
• 42 HP
• Melee
• Aggressive
• Drops #2 and 1-4 Gold
1

Furious Boar Level 3
• 42 HP
• Melee
• Aggressive
• Drops #2 and 1-4 Gold
1

Furious Boar Level 3
• 42 HP
• Melee
• Aggressive
• Drops #2 and 1-4 Gold
1

Furious Boar Level 3
• 42 HP
• Melee
• Aggressive
• Drops #2 and 1-4 Gold
1

Furious Boar Level 3
• 42 HP
• Melee
• Aggressive
• Drops #2 and 1-4 Gold
1

Furious Boar Level 3
• 42 HP
• Melee
• Aggressive
• Drops #2 and 1-4 Gold
2

Little Cave Bug Level 3
• 60 HP
• Melee
• Aggressive
• Drops #2 and 1-4 Gold
2

Little Cave Bug Level 3
• 60 HP
• Melee
• Aggressive
• Drops #2 and 1-4 Gold
2

Little Cave Bug Level 3
• 60 HP
• Melee
• Aggressive
• Drops #2 and 1-4 Gold
2

Little Cave Bug Level 3
• 60 HP
• Melee
• Aggressive
• Drops #2 and 1-4 Gold
2

Little Cave Bug Level 3
• 60 HP
• Melee
• Aggressive
• Drops #2 and 1-4 Gold
2

Little Cave Bug Level 3
• 60 HP
• Melee
• Aggressive
• Drops #2 and 1-4 Gold
2

Little Cave Bug Level 3
• 60 HP
• Melee
• Aggressive
• Drops #2 and 1-4 Gold
2

Little Cave Bug Level 3
• 60 HP
• Melee
• Aggressive
• Drops #2 and 1-4 Gold
2

Little Cave Bug Level 3
• 60 HP
• Melee
• Aggressive
• Drops #2 and 1-4 Gold
2

Little Cave Bug Level 3
• 60 HP
• Melee
• Aggressive
• Drops #2 and 1-4 Gold
2

Little Cave Bug Level 3
• 60 HP
• Melee
• Aggressive
• Drops #2 and 1-4 Gold
2

Little Cave Bug Level 3
• 60 HP
• Melee
• Aggressive
• Drops #2 and 1-4 Gold
2

Little Cave Bug Level 3
• 60 HP
• Melee
• Aggressive
• Drops #2 and 1-4 Gold
2

Little Cave Bug Level 3
• 60 HP
• Melee
• Aggressive
• Drops #2 and 1-4 Gold
2

Little Cave Bug Level 3
• 60 HP
• Melee
• Aggressive
• Drops #2 and 1-4 Gold
2

Little Cave Bug Level 3
• 60 HP
• Melee
• Aggressive
• Drops #2 and 1-4 Gold
3

Brown Bear Level 4
• 69 HP
• Melee
• Aggressive
• Drops #2 and 2-3 Gold
3

Brown Bear Level 4
• 69 HP
• Melee
• Aggressive
• Drops #2 and 2-3 Gold
3

Brown Bear Level 4
• 69 HP
• Melee
• Aggressive
• Drops #2 and 2-3 Gold
3

Brown Bear Level 4
• 69 HP
• Melee
• Aggressive
• Drops #2 and 2-3 Gold
3

Brown Bear Level 4
• 69 HP
• Melee
• Aggressive
• Drops #2 and 2-3 Gold
3

Brown Bear Level 4
• 69 HP
• Melee
• Aggressive
• Drops #2 and 2-3 Gold
4

Beowulf the Old Level 5
• 90 HP
• Melee
• Aggressive
• Miniboss
• Drops #2 and 2-4 Gold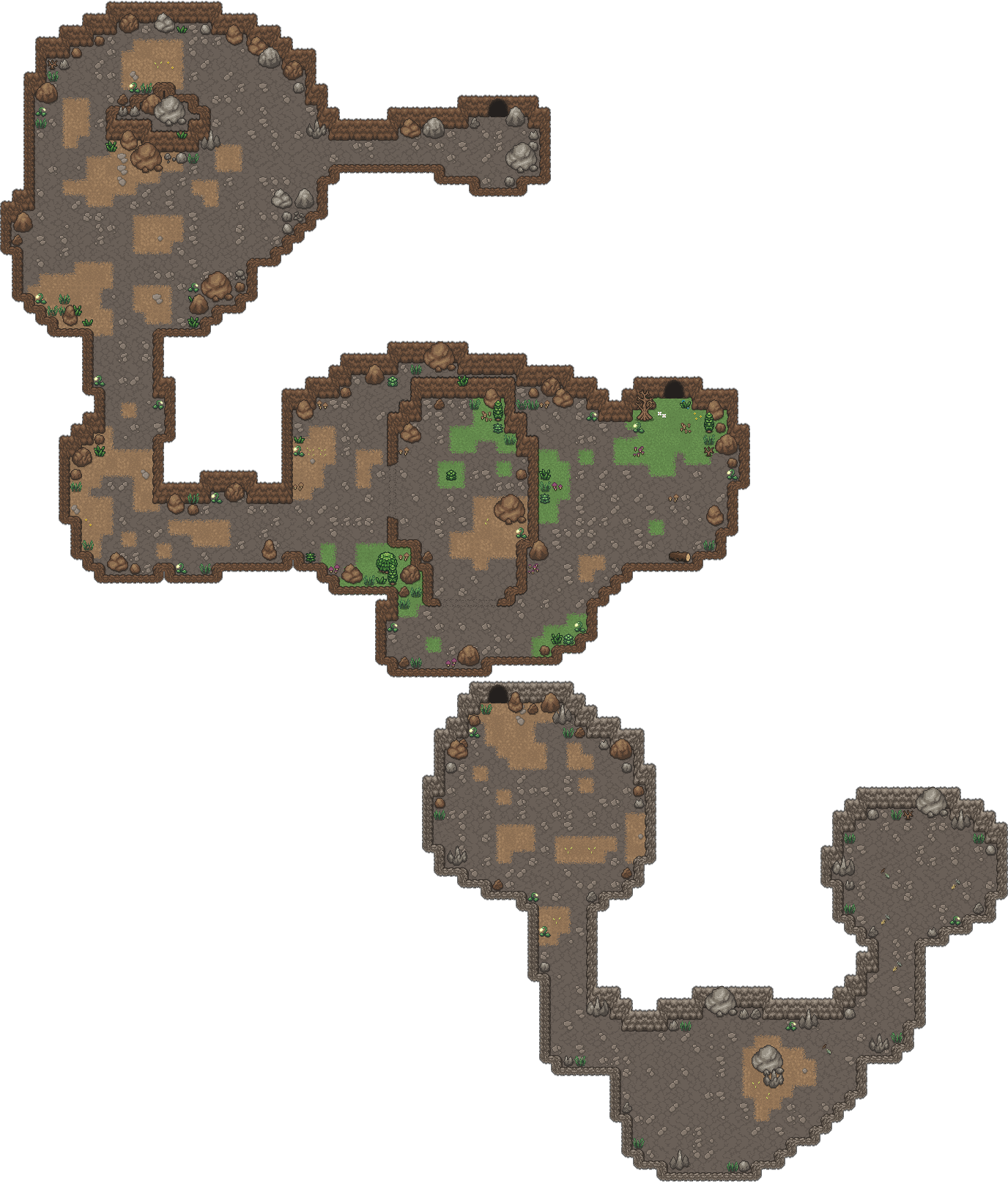 It's a cave marked on the map on the north-east side of the Rusty Bucket Winery. Contains two levels.
NPCs
Quintin Conner
Billie Burns
Resources
Copper Vein
Vogria Bush
Locations
Enemies
Furious Boar
Little Cave Bug
Brown Bear
Beowulf the Old
Community content is available under
CC-BY-SA
unless otherwise noted.